A keyboard PCB is a panel or worksheet in a computer that acts as the basis for the keyboard. Using a keyboard PCB, you can determine which key you press on the computer and use the keyboard to transfer data to the computer. If your target group is hardware enthusiasts, gamers, or engineers who want to build custom keyboards, you need comprehensive information about keyboard PCBs. That's why we've written this article to answer the five things you should look for when choosing a keyboard PCB.
So if you're ready to get started, let's get started.
Keyboard PCB

PCB layout or size
Choosing the right keyboard layout for yourself will allow you to type comfortably and efficiently for hours on end. And the PCB layout or size you choose when making your keyboard depends on the size of the keyboard you need. What size and layout keyboard do you currently use? Which keyboard size and layout is best for you? Here are a few common differences in keyboard sizes and layouts to help you find the ideal size keyboard.
80% keyboard | 87-key keyboards | Tenkeyless keyboards (TKL)
The 80% layout of the keyboard is also known as the Tenkeyless (TKL) keyboard, as the numeric keypad has been removed. This layout reduces the size of the keyboard by compressing the numeric keypad area that most people do not use. This layout is highly recommended for gamers who are used to PC layouts and need more desktop space.
Missing key: numeric keypad
Suitable scenario: everyday gaming or office use
Most laptops are equipped with a 75% keyboard, so you may be familiar with the 75% keyboard. 84-key layout streamlines the function keys but keeps the usual arrow keys and F-keys. However, the 75% layout further reduces the size of the keyboard, thus increasing portability. For those who primarily use laptops, the 75% keyboard is the one you are most used to.
Missing keys: numeric keypad, some navigation keys (Insert, PrtScn, Scroll Lock, and Pause)
Suitable scenarios: Daily gaming or office use, people who don't need a numeric keypad, custom keyboard enthusiasts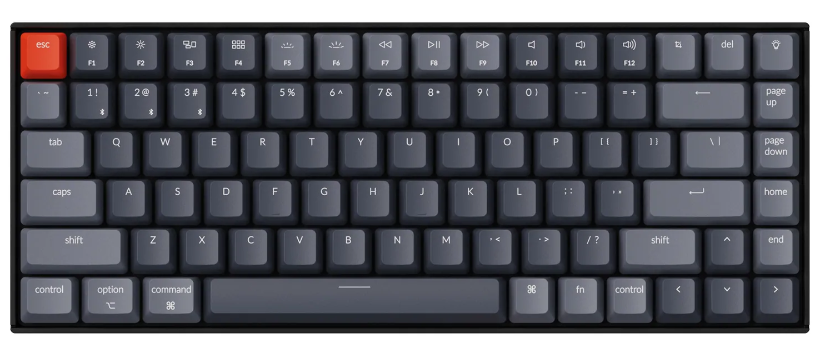 75% keyboard
The 65-key layout further compresses the keys to create a smaller keyboard. It removes the F function key and numeric keypad and replaces these function triggers with a combination of other keys. Only the most commonly used function keys and arrow keys are retained. The more compact keyboard frees up more desktop space and allows you to focus on typing.
Missing keys: numeric keypad, some navigation keys (Del, End, Insert, PrtScn, Scroll Lock, Pause), function keys
Suitable scenarios: gaming, office (no need to edit large amounts of data), people who mainly need to type, custom keyboard enthusiasts

65% keyboard
The 60% size keyboard is even smaller, retaining only the number bar and letter keys. 60% keyboard size prioritizes the typing experience by removing more underused keys, but you can also use function keys or arrow keys via key combinations. It is ideal for people who need to streamline their space and need to type for long periods of time.
Missing keys: numeric keypad, navigation keys, function keys, arrow keys
Suitable scenarios: office use (no need to edit large amounts of data), people who mainly need to type, lovers of custom keyboards
Therefore, if you use the keyboard for gaming and data input, you need a large size keyboard. This means that a large PCB keyboard size or layout of between 65% and 80% should be chosen.
However, if your keyboard is only used for office typing, choose a regular or smaller size keyboard. This means choosing a PCB layout or size that is 60% keyboard or even smaller.
When choosing a keyboard PCB, there is a choice between RGB or non-RGB backlight support. RGB backlighting is preferable because it creates a bright atmosphere at night and it is prettier. However, it is more expensive than the non-RGB backlit version.
Brands
There are a large number of brands on the market that produce keyboard PCBs. But not all brands offer high-quality and reliable PCBs, so you have to be careful when choosing a company with quality PCBs. Fortunately, at TOPFAST, we believe in quality and show it off with our high-quality keyboard PCBs.
Hot-swappable or solderable PCBs
When it comes to keyboard PCB, there are two main types; hot-swappable and solderable PCB.
Hot-swappable PCBs are easy to mount switches on, just make sure the two pins of the switch are straight, mount it to the PCB and you're ready to go! In addition, hot-swappable PCBs simplify keyboard adjustment and maintenance. Assuming you need to check your keypad switches regularly or have been using your keypad for a few years and need to re-lubricate your switches, having a hot-swappable PCB makes this process much easier.
Solderable PCBs require more tools to assemble, such as soldering irons and desoldering tools. Assembling a keyboard with a solderable PCB, therefore, requires more work as each individual switch must be soldered to the PCB. If you are not familiar with soldering irons, you may even damage the PCB during assembly.
Therefore, we recommend that you choose hot-swappable PCBs.
Price
Price is an essential step when considering keyboard PCBs and other related components. But we recommend that you put quality above price.
Why choose us: our competence
At TOPFAST, we are committed to high-quality products. We carry out extensive quality control before releasing our keyboard PCBs. Therefore, you can rest assured that you will only receive high-quality keyboard PCBs from our company.
For more information, to order or for a quote, please visit this link.