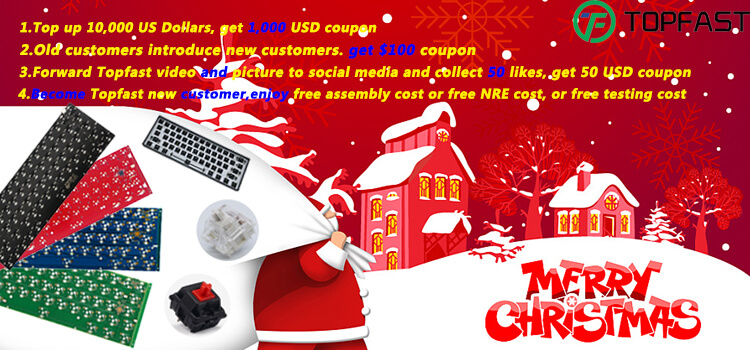 75% keyboard pcb is ideal for all kinds of keyboards. Made from FR-4, a composite flame resistant material composed of woven fiberglass cloth with an epoxy resin binder. It can withstand temperatures up to 180 degrees during lamination. Based on the 65% keyboard pcb, it adds keys from F1 to F12. This pcb also supports QMK/VIA programm and multiple functions for Hot swap,Blue-Tooth,Wireless/Wired and RGB.
The TOPFAST(Unice Group) 75% keyboard pcb is one of the most popular PCBs used to build 75% custom mechanical keyboards. This is a hot swappable PCB that supports switches with 3 and 5 pins so it is very flexible to use switches from cherry mx, kailh, gateron and other mechanical switches.
TOPFAST(Unice Group) 75% keyboard pcb features are very complete, this PCB uses a USB Type C port, has a cool RGB that lights up individually and supports RGB Underglow which will be very cool if you use this PCB on a keyboard case made of acrylic. The stabilizer that you can use on the TOPFAST(Unice Group) 75% keyboard pcb is a cherry style stabilizer or a screw-in stabilizer. This 75% keyboard pcb can be customized using VIA firmware to change programmable keys and remapping certain functions on the 75% keyboard pcb. If you want a PCB for 75% custom keyboard with very full features, the TOPFAST(Unice Group) 75% keyboard pcb is one of the best options and is the most popular option that a lot of people are already using.If you want a standard PCB with fairly complete features at a fairly affordable price, the TOPFAST(Unice Group) 75% keyboard pcb is the right options for you.
As a professional mechanical keyboard pcb layout and manufacturer, TOPFAST also provides best quality HDI board, heavy copper board, backplane board, semiconductor test board, high frequency board, high speed board and rigid-flex board. Please contact us for a free quotation!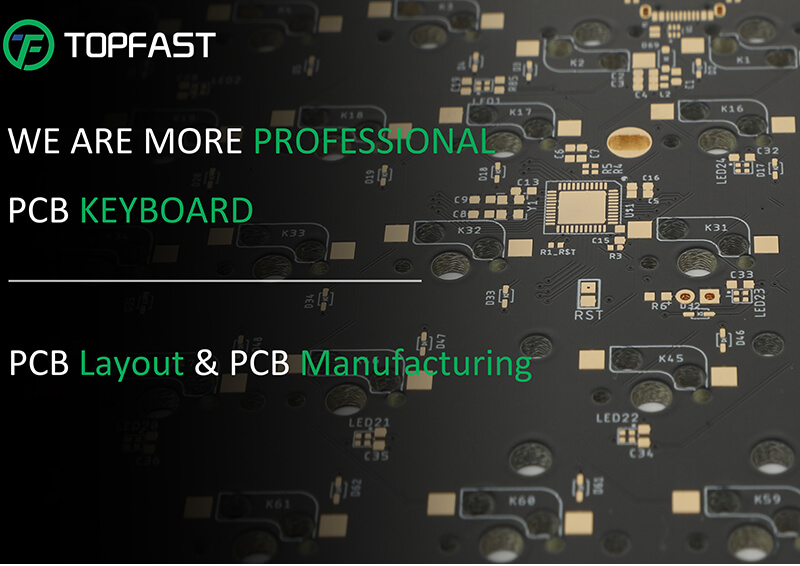 Keyboard PCB Technical Capacity:
Keyboard Pcb
40%
50%
60%
65%
75%
80%/TKL
95%

100%
Layout
/
/
iSO,ANSI

Keys
40
50
61/64
68
80
87
95/96
104/105
Color of PCB

Green、Black 、Orange、Blue、

Customized

Connector

Type C、USB、Micro USB、WiFi

Material
TG170-180

Fr4、Customized

Function
Hot swap,Blue-Tooth,Wireless/Wired,RGB,Customized.


Switch

3pin、5pin

Program
QMK/VIA supported

Logo
Customized

Assembly
Bare keyboard pcb board/PCB Assembly


Gerber File

Customized keyboard pcb design

Bom List
Customized keyboard pcba design

Keyboard pcb Details: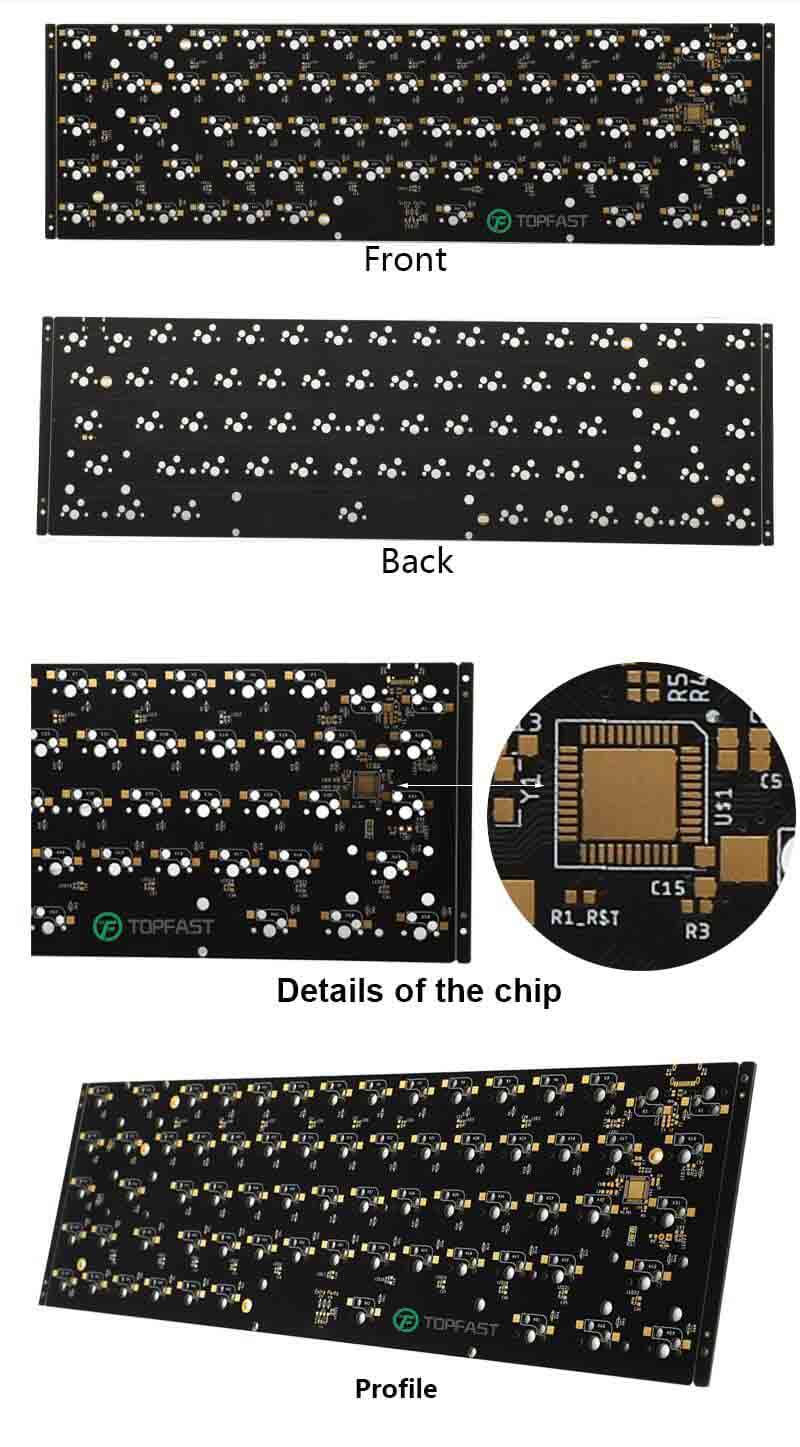 Keyboard pcb Layout design:

Features:
USB Type-C Connectivity

Fully Programmable Through VIA/QMK

Soldered Version - Non-Hotswap

75% Mechanical Keyboard PCB

Underglow RGB LEDs

Supports ISO + ANSI Layout
Keyboard pcb SMT Process: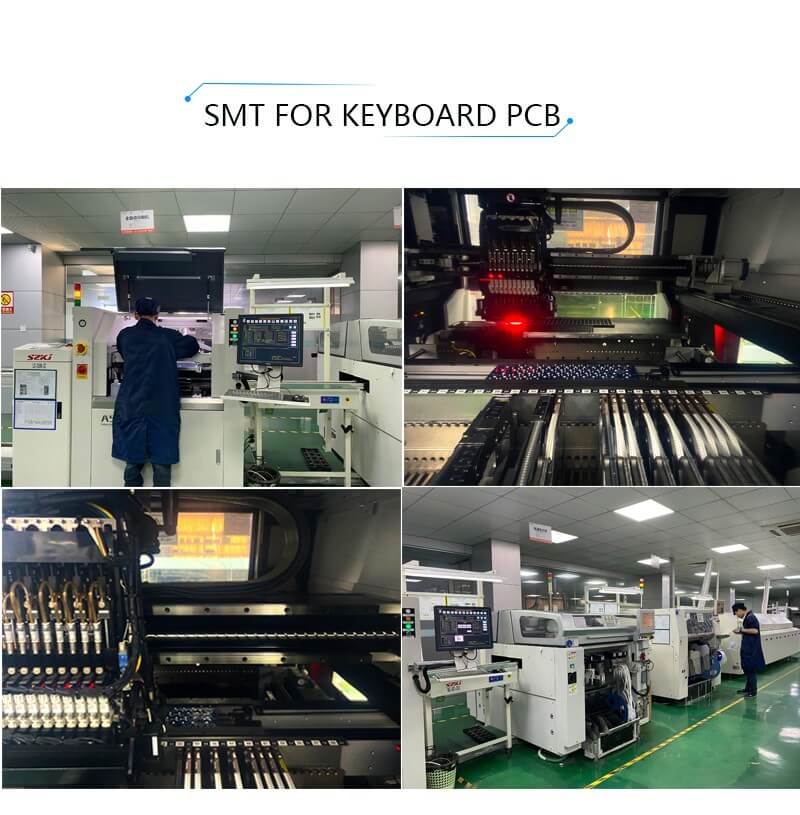 Keyboard pcb layout sample: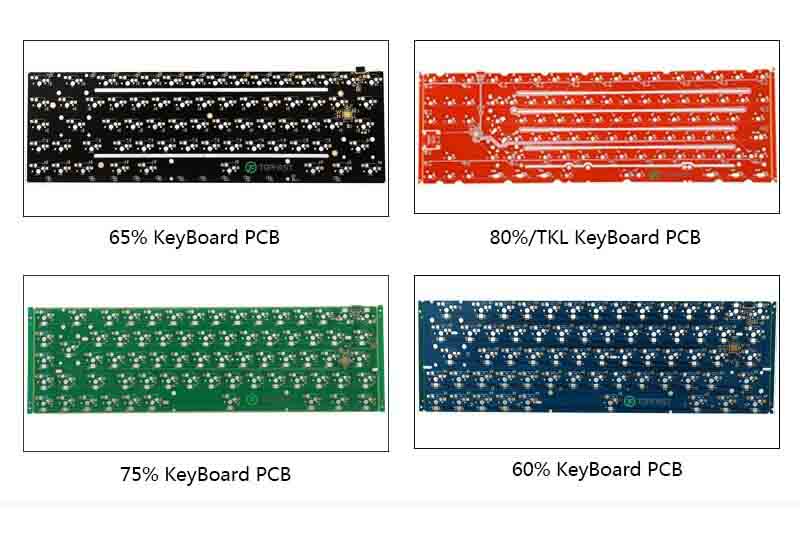 Includes:
Application with Keyboard pcb: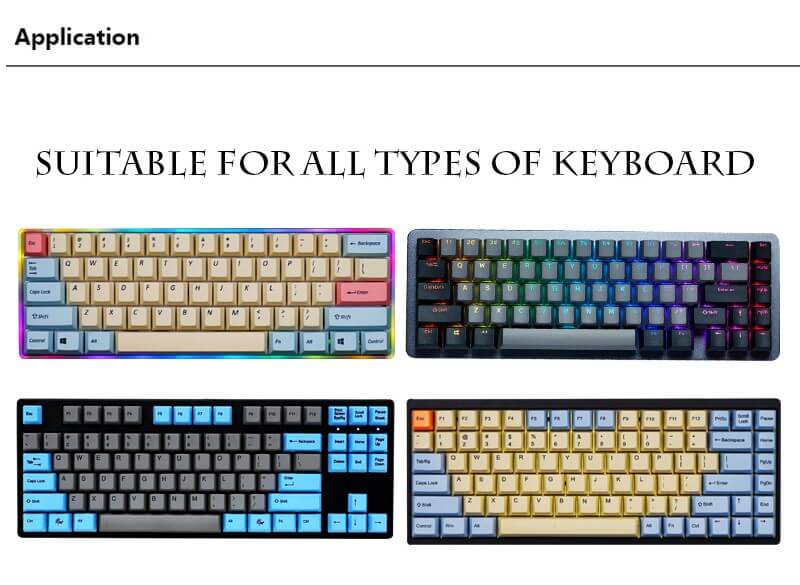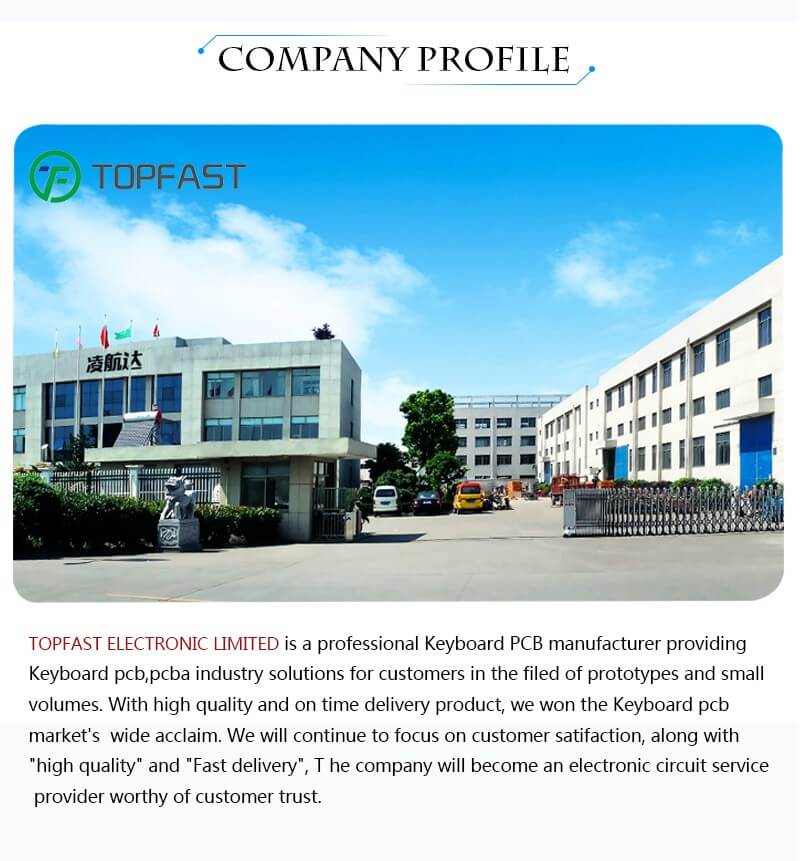 Customizing a Mechanical Keyboard
First, the size of the keyboard you intend to build should determine the PCB size you choose. So, if you intend to build a large keyboard, choose a PCB board of 60 - 75%.
In contrast, smaller keyboards require a lower percentage, around 40 - 50. Therefore, it is best to choose a 75% PCB layout because it strikes a balance between functionality and size.
If you plan to create the board using ANSI, use the following stabilizers: Enter, Shift, Backspace, Spacebar.
However, if you want to use Numpad on your keyboard, choose a stabilizer with the following functions: + key, 0 key, Enter key.
For keyboard switches, we recommend that you choose PCB mounted buttons as they are typically more durable and softer to the touch than board mounts.
When it comes to keycaps, there are two main options to choose from; PBT and ABS plastic. Both keycaps are good. But PBT stands out because it is stronger than ABS plastic. The only hitch is that it is very expensive. But it's worth it.
TOPFAST ELECTRONIC LIMITED is a professional Keyboard PCB manufacturer providing Keyboard pcb,keyboard pcba industry solutions for customers in the filed of prototypes and small volumes.
With high quality and on time delivery product, we won the Keyboard pcbmarket's wide acclaim.
We will continue to focus on customer satifaction, along with"high quality" and "Fast delivery", The company will become an electronic circuit service provider worthy of customer trust.
We can support you about Keybord PCB research and development efforts and meet you fast life cycles, we have set a separated
department where the exclusive production planner will follow your orders production to meet the requirements of rapid prototyping and Quick turn Keyboard PCB.
We could also provide One-Stop service:keyboard pcb layout service,keyboard pcb manufacturing,keyboard pcb assembly.
QC test Control keyboard pcb: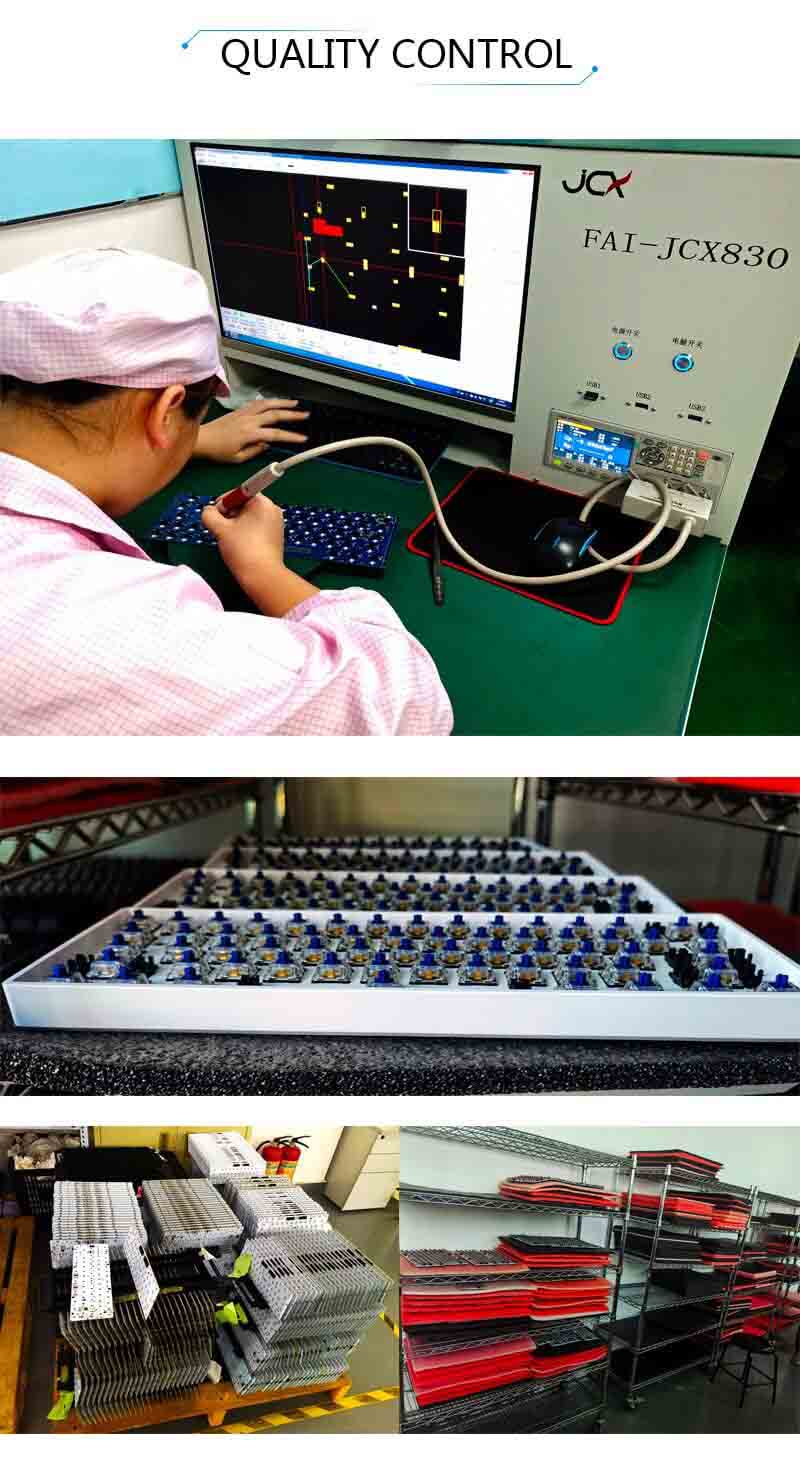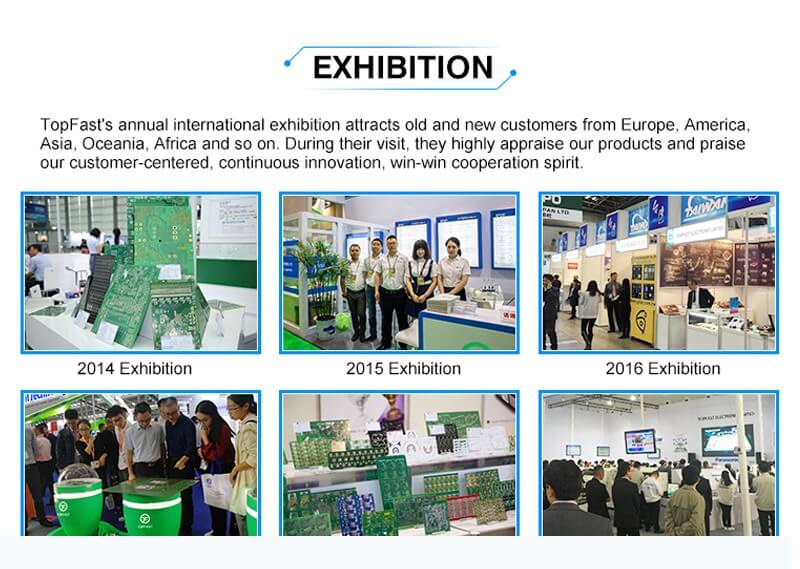 TopFast's annual international exhibition attracts old and new customers from Europe, America,Asia,Oceania,Africa and so on.
During their visit, they highly appraise our products and praiseour customer-centered, continuous innovation, win-win cooperation spirit.
Certifications: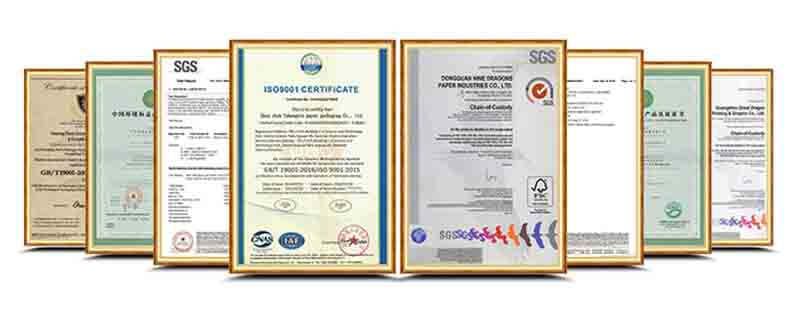 Clients with Topfast: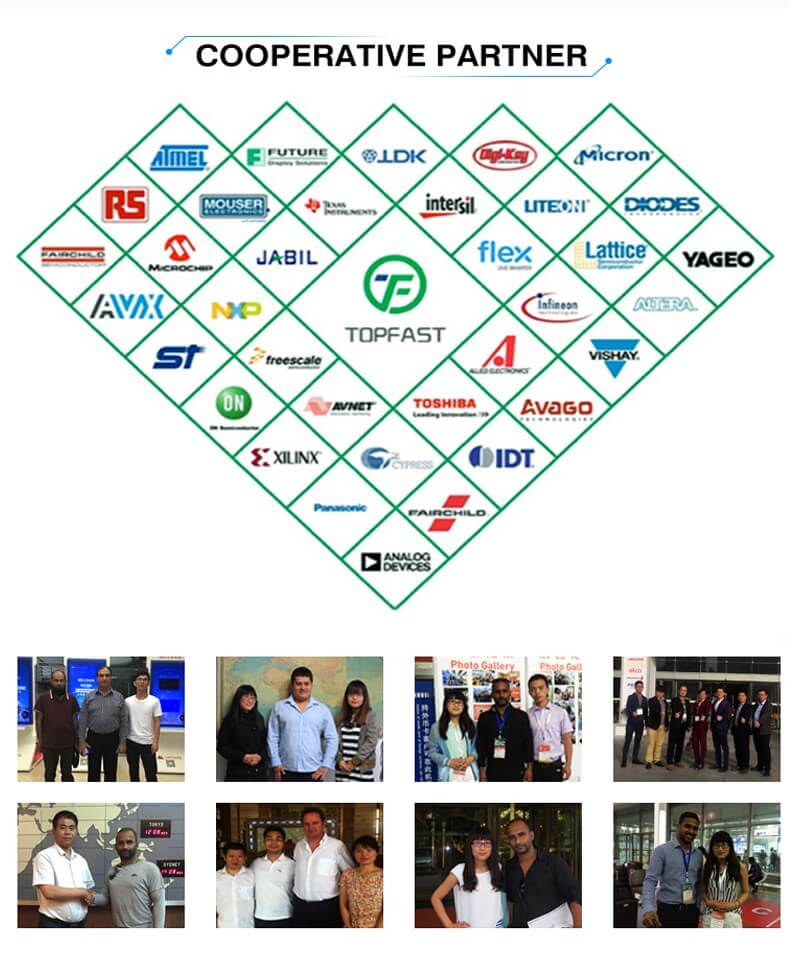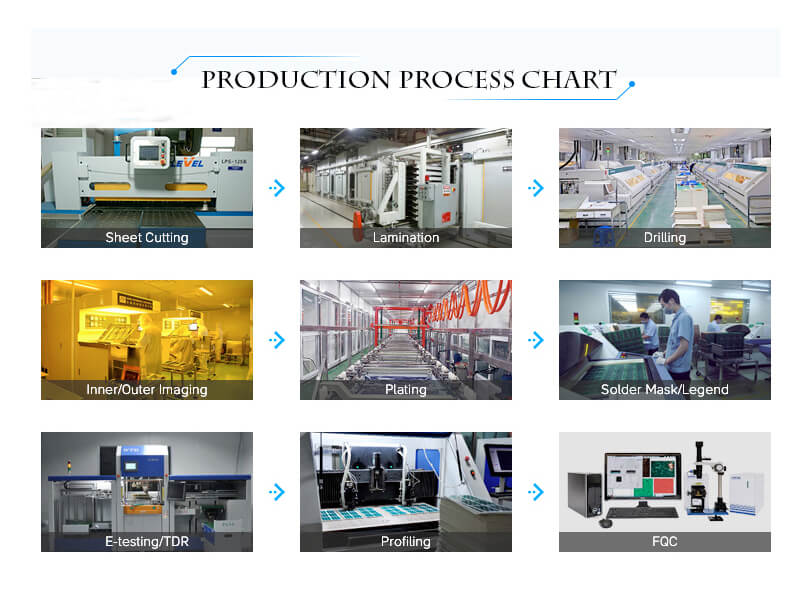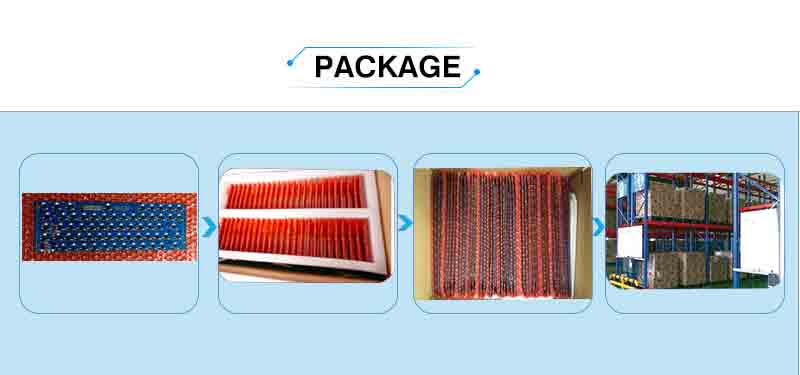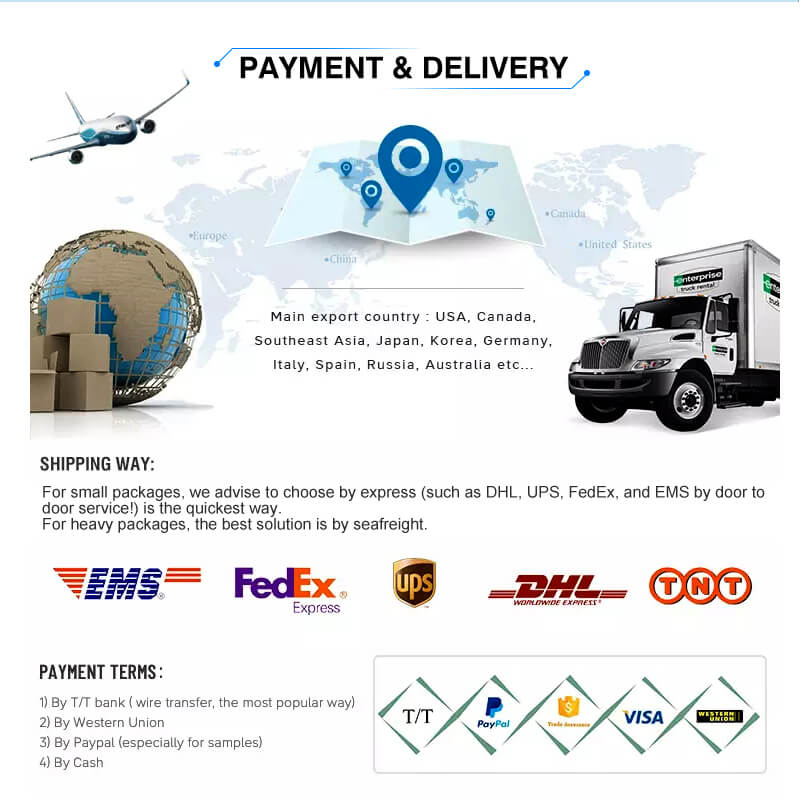 FAQ
Q1:Could you give me a cost about prototype keyboard pcb if i sent you the files (gerber/BOM list/and kiCad files) and the desired modifications?
A1:with gerber/bom list/kicad file,we could quote for the prototype keyboard pcb within 2 hours
Q2:

Could you make keyboard pcb design for me?Also is your offer including a QMK/VIA firmware port for the keyboard pcb board?
A2:we provide one stop keyboard pcb service and for the QMK/VIA are supported.
Q3:

Is your offer also including exclusivity of the developed product and full posession of the developed production files?
A3:yes,it include the copyright management.
Q4:

Regarding the development/production of a daughter board,can you provide this as well and is it included in the price?
A4:sure,the quotation for the keyboard pcb also with daughter board,JST connector.
Q5:

If the offer doesn't include keyboard pcb production files,what would your offer for that look like?
A5:If need custom keyboard pcb,and price all bases on your requirements about the pcb,
supported from 40%~100% keyboard pcb layout.
Q6:

How can you ensure the quality of the keyboard PCB?
A6:Our PCBs are 100% test including Flying Probe Test,E-test and AOI.
also will support testing video and phone call.
Q7:

What is your minimum order quantity of keyboard pcb?
A7:

For keyboard pcb,the MOQ is 1 pcs.